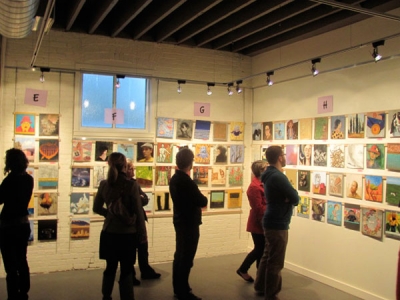 300 Plates Fundraiser and Exhibition is Thursday May 14, 2015 from 6PM -9PM The annual Art Access fundraiser and exhibition is the signature event of Art Access. It presents unique, affordable and highly collectible artwork created by approximately 160 established and emerging artists from the local community.
Millcreek Cacao Roasters loves participating in this extraordinary event that traces its roots to Joe Ostraff visiting Thailand in the Summer of 1993. The inspiration that Joe found at a Buddhist Wat (Monastery) lead to 300 Plates. The fundraiser provides opportunities to enrich the community by creating programing for Utahans of all ages and ranges of physical and mental abilities access to the enriching world of art.
Millcreek Cacao Roasters will be sampling 70% Arriba Nacional dark chocolate for guests, artists, and participants to experience the art of chocolate. Talk with chocolate makers and owners Dana Brewster and Mark DelVecchio as well as artisan cacao roaster Steven Brewster. Come fill up your plate and spread the experience of art and chocolate in our community!