Baking season is upon us, and there is no shortage of yummy recipes that include our favorite ingredient, chocolate. This recipe made a big splash last holiday. So make room for our fresh spin on the beloved classic pecan pie in your holiday spread. This pie delivers exquisite flavors of 70% Millcreek chocolate, bourbon, and brown butter. Unlike traditional pie crust, you will find a more crumbly, delightful pastry like version. To punch up the wow factor, consider using that extra chocolate to make chocolate shaped holiday molds for topping. The combination of dark brown chocolate molds with the dark pecans can be overwhelming. Consider purchasing edible gold, color mist made by Wilden and accenting the chocolate molds with the gold food coloring. The gold can easily be applied by using a new paint brush and lightly brushing the gold food coloring over the chocolate. Get ready to make some Merry with this delightful treat from the Millcreek Cacao kitchen.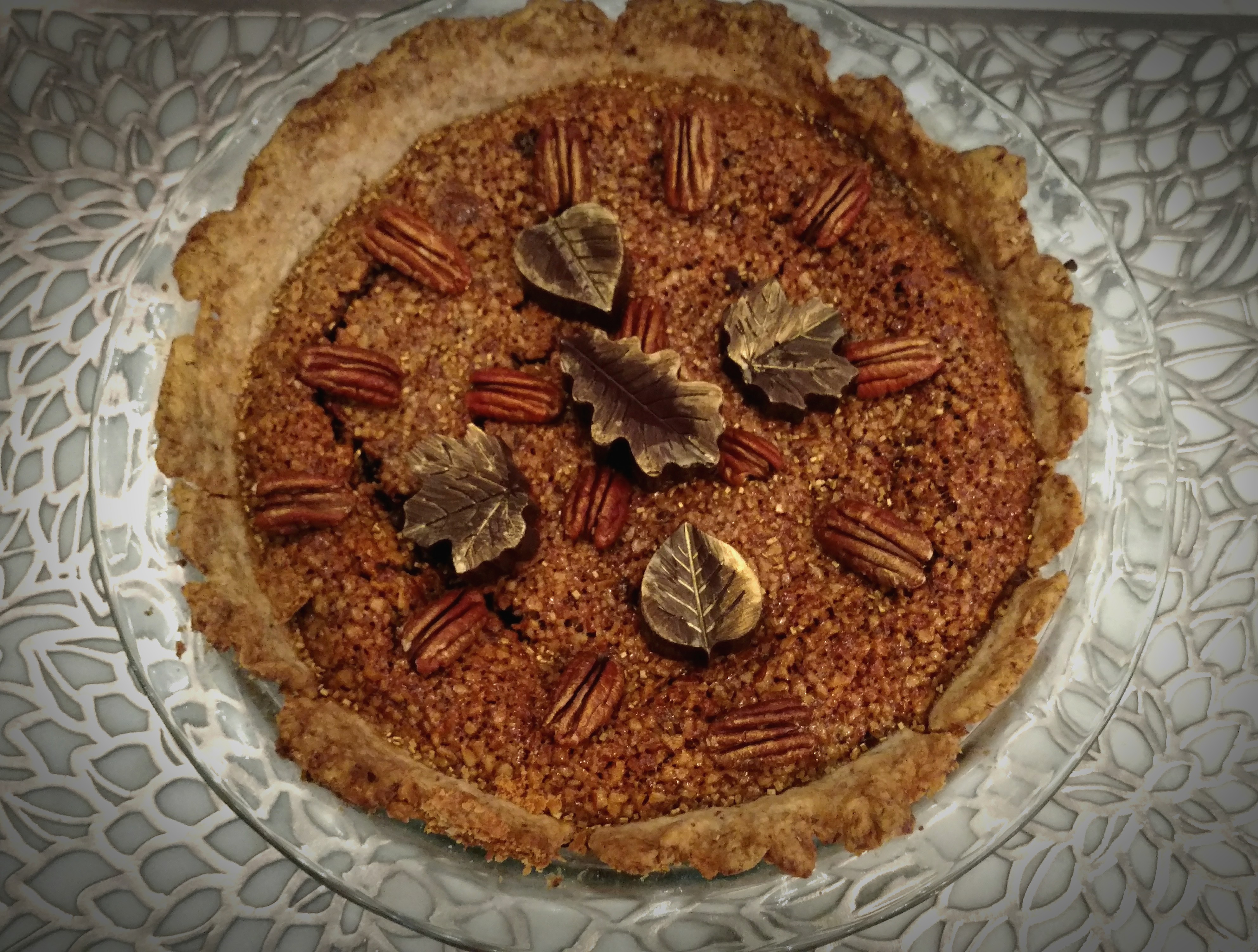 Ingredients
Crust
1 Cup all-purpose flour and couple reserved tablespoons for dusting
1/4 cup finely ground pecans
1 tablespoon sugar
Pinch salt
1/2 cup (1 stick) unsalted butter, cold and cut into small chunks
2 tablespoons ice water, plus more if needed
Filling
¼ cup and 2 tablespoons butter
½ cup white granular sugar
½ cup turbinado sugar
1 cup corn syrup
4 eggs, beaten
¼ cup bourbon
1 teaspoon vanilla extract
¼ teaspoon salt
2 ounces 70% cacao chocolate chips
1 cup chopped pecans
Directions
Begin by making the pastry dough. Put pecans in a food processor until finely chopped. Combine flour, pecans, sugar, and salt in a bowl. Add chunks of butter to the flour mixture and work flour and butter mixture with hands or pastry blender until the mixture resembles coarse crumbs. Pour in ice water and bind dough mixture with hands. If dough is too dry and crumbly, add more ice water one tablespoon at a time. Form pastry dough into a ball, wrap with plastic wrap and place in refrigerator for at least 30 mins.
After dough has firmed in the refrigerator, take out and roll on a lightly floured surface. Roll dough into a 12-inch circle. Pick up dough by rolling onto the pin and gently placing into pie pan. Press dough firmly into pan and trim excess dough from edges.
Preheat oven to 350 degrees F.
Prepare filling. Start by browning butter over medium-high heat continuously stirring during the process. Butter will froth, then start to change from a golden yellow to a soft brown. Pull butter off the burner while adding sugar and corn syrup. Immediately return to burner and turn heat down to low while blending and dissolving the sugar/corn syrup mixture into the butter. Remove from heat and let sit to cool. In a large bowl combine eggs, bourbon, vanilla, and salt. Slowly pour cooled sugar mixture into egg mixture and whisk gently. Next, add chopped pecans and chocolate. Pour into pie crust and bake for 45-55 mins. Option to top with arranged whole pecans.