This pairing is perfect in the morning or any time of day that you want to combine chocolate and cheese with the aromas of espresso and lavender.
Local roasted espresso beans are a bold and robust wake call for the spirit! A carefully selected blend of locally roasted beans by our sister company, Millcreek Coffee Roasters, this dark chocolate bar creates an exciting convergence of two bold ingredients. Nothing can overwhelm the fruit and caramel flavors of the heirloom Arriba in our 70% bar. The luxuriously smooth chocolate is well situated to the aroma and mouth feel of the perfectly roasted espresso.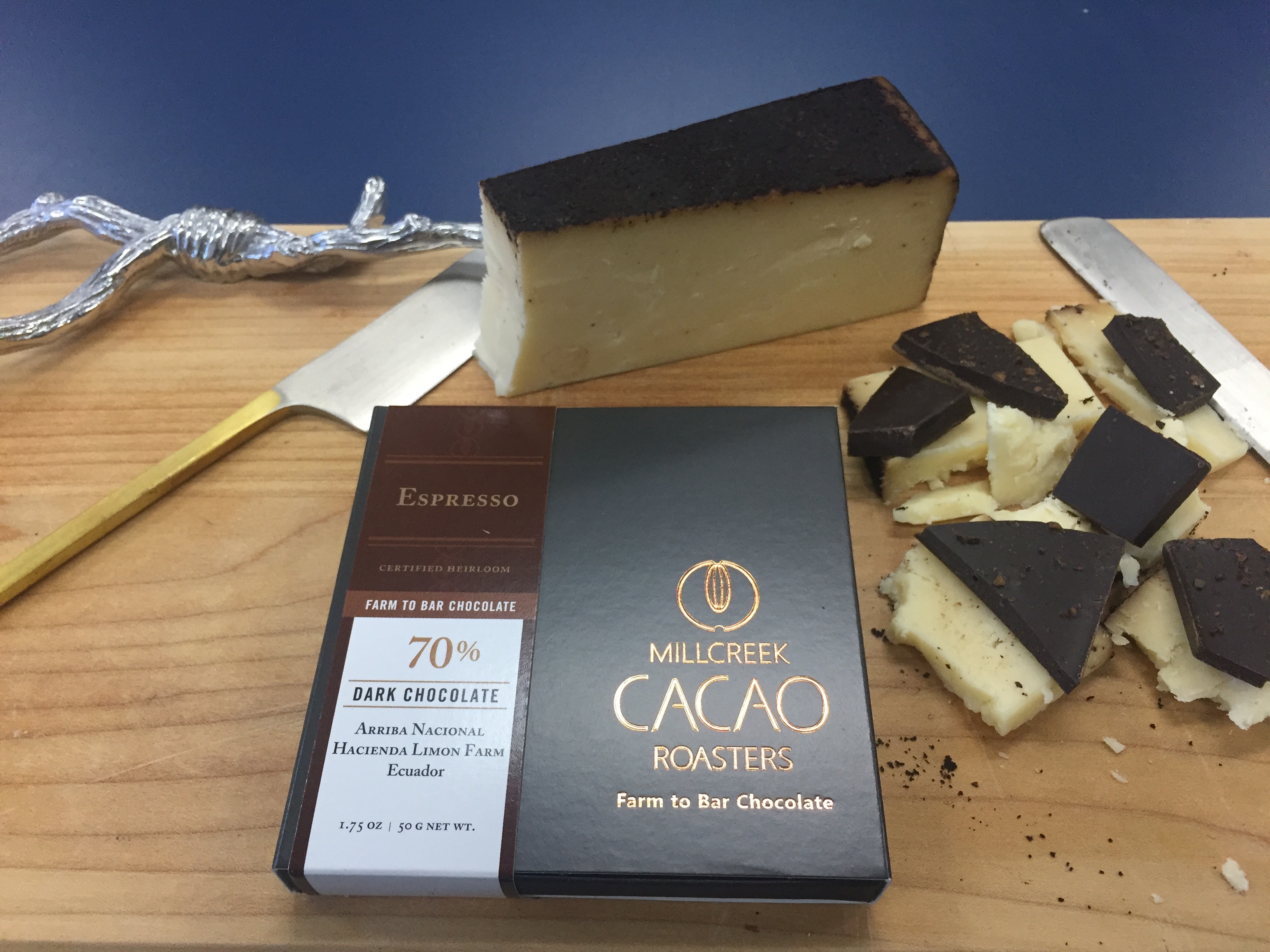 Layer this chocolate with a cheese called , a great American Original, Barely Buzzed. Local Utah cheese wunderkinds, Beehive Cheese, have created a unique espresso and lavender hand-rubbed cheese with subtle notes of butterscotch and caramel. Made from the milk of Jersey cows; this is a full-bodied cheese with a smooth, creamy texture. Barely Buzzed, named by Andrea at Deluxe Foods in California is Beehive's most popular cheese.
The espresso blend is then mixed with French Superior lavender buds and freshly ground onsite. The mixture is diluted with oil to suspend the dry ingredients in the rub. Rubbing the cheese produces notes of butterscotch and caramel near the rind, which find their way to the center of the cheese.
To enjoy this pairing try a small piece of the Millcreek Cacao Espresso letting the chocolate spread out on your tongue. follow the chocolate with a thin slice of Barely Buzzed and wait for the combo to lift your spirits!